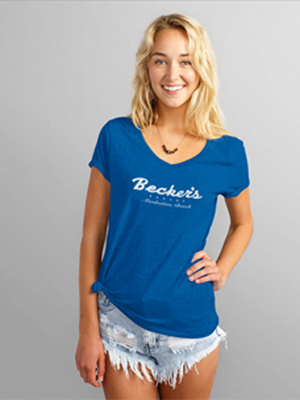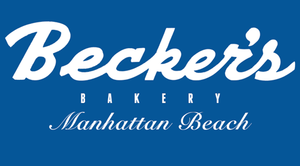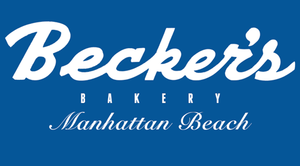 Becker's Bakery Women's T-Shirt
Shirts Available In-Store Only
     Becker's Bakery is the South Bay's legendary go-to place for cakes, cookies, sandwiches and everything yummy.
     Located just steps from the Manhattan Beach pier, Beckers Bakery was founded 75 years ago in 1942 by Harry Becker, who in 1958, handed the business down to his 2 sons, Stan and Norm. Stan's specialties included secret-recipe squaw bread, sold wholesale to many restaurants in the South Bay, including the very first Charthouse restaurant in Redondo Beach.  Stan was also responsible for expanding the cake and cookie business to include the Becker's classic sugar cookie. In 1984, Stan handed the business down to his son, Todd, who added the deli in 1992.
     While Beckers Bakery has certainly changed over the years, one thing remains a constant: a furious devotion to quality and family tradition.
     Today, Becker's continues to be run by empty nesters Todd and his wife Brigid, and the fourth generation of the family proprietors, their daughter Kit.
     So stop by their shop when your occasion calls for a beautiful custom cake, some cupcakes, donuts, sandwiches, or a cookie decorated with your favorite team, cartoon character or even a (yes) poop emoji!