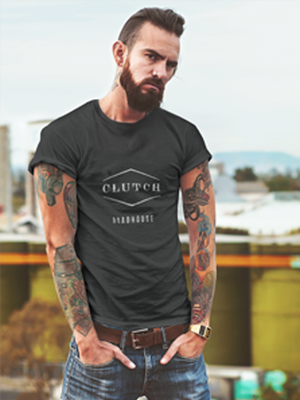 Clutch T-Shirt
When you find yourself near the beach in the City of Angels, you need to stop by Clutch Roadhouse in Venice, California. Clutch features great music and a very fun, chill atmosphere, and is home to some of L.A.'s best dry-rubbed BBQ, surf and turf and Cali-Mex tacos. They have a great beer selection, fine wines, house-made sangria and craft cocktails.

They have an amazing variety of BBQ sauces, and smoke their meat right there in the back lot. Try the Santa Maria tri-tip, the pulled pork, Cali-Mex tacos, ceviche along with some mac & cheese that is to die for. Everything here is awesome.

And be sure to stop by on the weekend for one of the best brunches on the West Side.